Passionately committed to happy & healthy performance horses
USDF Bronze, Silver and Gold medalist, Dutch certified riding instructor (ORUN 1st fase). USDF L program graduate with distinction. Earned the USDF bronze, silver and gold freestyle bars, USDF Diamond Achievement and is rated 5 star on centerlinescores.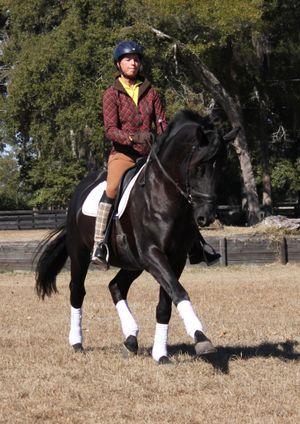 Eline began her equestrian journey in Holland, starting out vaulting and than studying dressage with Anky Van Grunsven, Edward Gal, and Ulla Salzgeber. She came to the United States in 2004 and has since had the opportunity to travel across the country and learn more about different approaches and diversify her skills into eventing and combined driving. She has worked with Eric Smiley and Karen McCollum and FEI drivers Larry Poulin and Sarah Schmitt. She has helped improve the dressage and overall performance of horses and ponies owned by such competitive names as Vivian Creigh, Bob Koopman, Sybil Humphreys, Ellen Epstein, Darren Chiachia and others. Eline settled and developed her professional business in Chester, Vermont and in 2009 she relocated to Ocala with the assistance of Gunnar Ostergaard. Since moving to FL she has continued to seek out the best instruction and currently works with a Jan Ebeling, Ilse Schwarz and Lee Tubman on a very regular bases. She is available to help you train, ride and show your horses as well as manage their overall care. She provides exceptional support for the horse and rider!


Eline uses a conscientious, methodical approach in her training program. She starts young horses correctly and offers advanced schooling at a competitive level. Through groundwork, stable management and a clear training program under saddle, she is able to achieve harmony and success for both horse and rider. Bring your horse for a few fine-tuning sessions, or trust him/her to her for a longer period of time for competition. 

Eline will properly start your young horse or pony. Her focus is always on the horse and the individual physical and psychological needs of that horse from the beginning. She provides customized training as opposed to a one-size-fits-all program ~ WHICH SHE DOES NOT BELIEVE IN.

At every barn she is associated with she maintains the horses in prime condition by combining a nutritionally balanced diet with tranquil surroundings and skillful, consistent handling. This exemplary care satisfies total mind and body wellness resulting in improved performance.